Sackboy

Biographical information
Name
Sackboy
Occupation
PlayStation mascot
Status
Inanimate object
Physical description
Gender
♂ Male (default)
Nationality
English (Media Molecule)


Japanese / American
(Sony Interactive Entertainment)

Race
Sackperson
Career and family information
Series information
Appearance(s)
The Order: 1886
Little Big Planet series
Sackboy
is an Easter egg in
The Order: 1886
. He is a PlayStation mascot and the protagonist of
Media Molecule
's
Little Big Planet
series.
Biography
Edit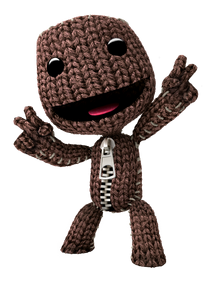 Sackboy is a lovable doll made out brown knitted wool and cotton stuffing. He has black beads for eyes and a zipper on his torso. He is redesigned in The Order to fit the world's aesthetic.
Sackboy appears as a inanimate object during Inequalities. Shortly after contacting Sentinel 5, the player can find Sackboy laying on top a shelf inside a building.
In Little Big Planet, Sackboy is a Toy Story-like being come to life by people's creativity. Players can customize his look by wearing unlockable costumes, or by purchasing more through the PlayStation Network.
Grayson's Sackboy appeared in Little Big Planet 3 as payed DLC. Limited edition figurines and a keyring of Grayson's Sackboy were also made available. In selected countries, pre-order copies of The Order: 1886 came with a figurine of Grayson's Sackboy.