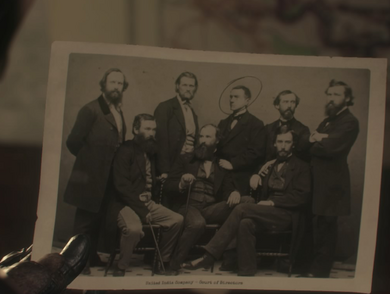 The United India Company, also known as 'The Company', is a trading company and a faction in The Order: 1886. It's based on the East India Company.
Their private forces, 'The Companymen', is an enemy-type during the second half of the game.
Their motto is "Novus Ordo Mundi" (lat.) which means "A new world order", seen in the entrance hall at the Company's headquarter in London.
Background
Edit
Similar to it's real world counterpart, The Company was establish to trade with the East Indies. Unknown to the unsuspecting public, The Company is operated by half breeds. Prior to 1886, their private army seized control of South Asia, giving rise to The Rebellion. Shortly afterward, they expanded their business worldwide. The Company covertly transported half breeds during their shipments, hiding them inside crates, with intent to infect the global population.

One of The Company's court of directors and an influential figure in The Order. Known as 'Lord Hastings' to the public, in secret he is a vampire and the serial killer known as 'Jack the Ripper'.
A female Half Breed mentioned in a phonograph directed at Hastings.
Former Members
Edit
Alastair held the title 'Sir Lucan' and was a Knight Commander of The Order. He was the adoptive son of the Lord Chancellor and older brother of Isabeau D'Argyll. He was later revealed to be a Lycan, acting as a personal guard for Hastings, and was killed by Grayson.