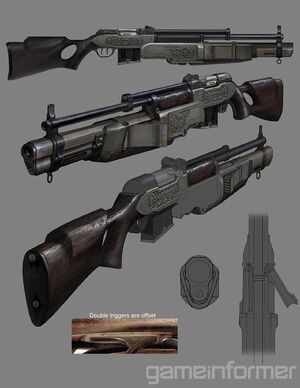 Weapons have a crucial role in The Order. Since the beginning of the war, King Arthur and his Knights have used multiple types of weaponry along with Blackwater to prevail against the Half breeds.
They are made or modified by Nikola Tesla and given to the Knights of the Order.
Weapon Types
Edit
During the course of history, many weapons were devised and used to fight off the Half Breed infestation, the industrial revolution saw rise to many powerful weapons.
Primary Guns
Edit
Side Arms
Edit
Ad blocker interference detected!
Wikia is a free-to-use site that makes money from advertising. We have a modified experience for viewers using ad blockers

Wikia is not accessible if you've made further modifications. Remove the custom ad blocker rule(s) and the page will load as expected.